Home
/
Preventive Dentistry
In addition to the many aesthetic dentistry options available from our cosmetic dentist in Coronado, Dr. Jimmy Wu offers a full selection of general and family dental care treatments that can help you maintain good oral health and prevent serious problems from occurring later.
Find out more about our preventive dentistry procedures below, and please contact Dr. Wu today if you would like to schedule an appointment.
Explore Topics On This Page:
Dental Cleanings and Exams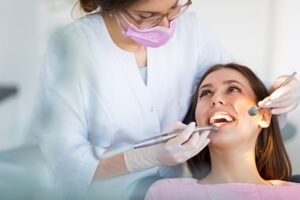 The first steps on the road to excellent oral health involve regular dental examinations and professional dental cleanings. With digital x-rays and other advanced diagnostic technologies, our team can find potential concerns as early as possible and recommend appropriate treatment options. Plus, our comprehensive dental cleanings can be made a standard part of your twice-annual dental exams. These cleanings can take care of areas that are challenging to reach with standard brushing and flossing routines, allowing our dental professionals to remove plaque and tartar in less noticeable areas and ultimately give your teeth a beautiful polish.
Periodontal Care & Gum Disease Treatment
Periodontal (gum) disease is a very prominent condition, even among individuals who have taken exceptional care of their oral health throughout their lives. Our practice can utilize state-of-the-art periodontal therapies, including laser dentistry, to help slow the progression of gum disease and keep it from getting worse. It is important to know that untreated gum disease can lead to tooth loss and serious risks to both oral and general health. Periodontal care can help control the condition and reverse some of its effects.
Tooth-Colored Fillings
Tooth-colored fillings are made of a composite material designed to create a more natural color blend with teeth affected by cavities and decay. The material is also known to be more durable than the traditional, "metallic"-looking filling material of the past. While mercury-based fillings and other restorations used to be the standard among dental practices, Dr. Wu does not use materials that contain mercury in any of the treatments available at our practice.
Oral Cancer Screening
Oral cancer screenings are often part of our regular dental examinations. These screenings are critical to the detection of any potential irregularities in oral tissues and are recommended at least twice each year for patients who use tobacco products and at least once each year for patients who do not. When cancerous or pre-cancerous oral tissue is discovered in its earliest stages, the chances of survival are much, much greater. Since early signs of the condition are not often noticeable, professional oral cancer screenings are extremely important.