Advanced dental care procedures at Coronado Dental Group include state-of-the-art treatments and techniques capable of providing a more comfortable experience while producing results that can restore the health, function, and appearance of the teeth. Our dentist, Jimmy Wu, DDS, places a high emphasis on continuing to embrace new, revolutionary methods of dental care to give patients the best possible outcomes and the most pleasant dental visit possible.
Learn about some of our most common advanced dentistry options below. For additional information, or to schedule an appointment, please contact us today.
Explore Topics On This Page:
Sedation Dentistry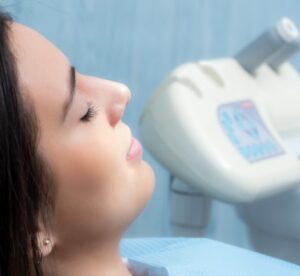 Sedation dentistry techniques can relieve dental anxiety and give patients a more relaxed experience. Dr. Wu's practice is the only one in Coronado that offers IV sedation, which can be particularly useful for patients with severe dental anxiety.
Dental Implants
Dental implants offer patients who have missing teeth a method of replacing what has been lost with results that are virtually indistinguishable from natural teeth in almost every way. Unlike traditional dentures, dental implants are not oral appliances that require pastes or other dental adhesives to remain in place. In fact, a dental implant is composed of a titanium post designed to fuse to the jawbone and serve as an artificial tooth root. Once this has occurred, a custom dental crown is secured to the post to create a new tooth that can provide significantly improved dental function while enhancing smile aesthetics. Plus, dental implants are designed to produce potentially lifelong results, and require no additional maintenance other than regular brushing and flossing. These procedures can be performed for patients with a single missing tooth, or multiple missing teeth.